Structural dynamics
Structural dynamics in the planning of foundations for paper machines
Calculate vibrations and include them in planning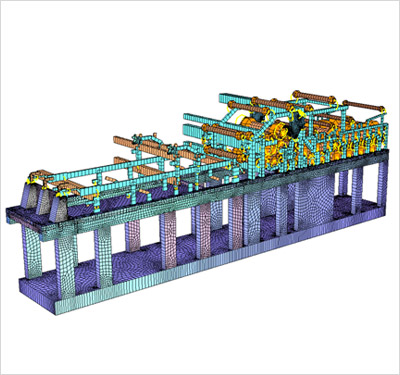 Dynamic loads require special properties of structures. Structural dynamics are particularly important in the paper industry.
The vibrations that occur there make a detailed structural-dynamic investigation necessary. At SCHUSTER engineering, we have the competence and experience to adapt the foundation or foundation of paper machines precisely to the dynamic requirements of the construction industry. In this way, we ensure optimum conditions for paper production at the highest level.
Weitere Details

In paper machines, the unbalance of rolls, motors and cardan shafts leads to considerable vibrations. The occurring forces increase exponentially with increasing machine speed.

In order to ensure smooth paper production in consistently high quality even at increasing production speeds, the correct interplay of machine, stiffness of the material and damping of the subsoil is essential.

It is therefore important to include all factors of the system in the construction dynamic calculation. Then it is possible to keep the vibration paths and velocities low by suitable structural measures.
Leistungsspektrum

Structural dynamic calculation of the overall system, taking into account the machine and the subsoil
Constructive limitation of vibration paths and vibration velocities in coordination with the plant manufacturer
Planning of a precisely coordinated foundation or foundation frame as well as a possible pile foundation